Nordquist Chiropractic & Regenerative Medicine
At Nordquist Chiropractic we focus on treating the whole patient, and any injuries they may be dealing with, by using advanced chiropractic and medical techniques. We have a team of highly trained doctors who have specialized in various activities. Nordquist Family Chiropractic and Regenerative Medicine has been consistently rated the top chiropractic clinic in the area for four years in a row, and is passionate about you as a person. We will do whatever it takes to help you meet your life goals so that you can live your best life. At our clinic, you receive the same care that the professionals get.
---
Meet Our Doctors
Our doctors include Dr. Jon Nordquist, DC, DAAMLP, whose passion is in personal injuries such as car and on-the-job accident injuries. He is very professional at his work and has acquired post-graduate education in various areas associated with trauma from injuries.
Dr. Patrick McAuley is a member of our team and has specialized in chiropractic care throughout his stay at the clinic. He is advanced in different adjusting techniques and serves individuals, families, and athletes.
---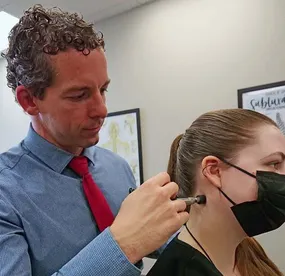 Conditions We Treat

Conditions We TreatWe treat a variety of conditions, including torn muscles from a car accident, back pain, work-related and sports injuries, spinal misalignment, chronic neck pain, compressed vertebrae, chronic diseases such as scoliosis, fibromyalgia, osteoarthritis, and migraines, poor posture, herniated discs, and muscle tension caused by stress. We use many proven methods to help relieve your pain and other symptoms and help your body heal properly as time goes on. Our chiropractic therapies include spinal manipulation, trigger point therapy, traction, and rehabilitation.
---
Contact Us for Quality Care from Our Chiropractors in Puyallup, WA
Contact Us for Quality Care from Our Chiropractors and Medical Providers in Puyallup, WA
Contact our team at Nordquist Chiropractic and Regenerative Medicine in Puyallup today for an appointment with our chiropractors or to learn more about our various services. Once you come to our clinic, you will get an assessment to receive the proper treatment needed for quick and natural healing processes in your body. You can book an appointment through our email, nordquistchiropractic.com, or via phone at (253)-445-3000.
---
Regenerative Medicine
One of the many techniques that we use to help patients is through applying our regenerative medicine. Regenerative medicine focuses on repairing, replacing, and re-growing any damaged cells. Our medical professionals are experienced in offering the best regenerative medicine to patients in Puyallup and surrounding areas using scientifically proven methods that enhance quick, natural, and effective recovery of the body. Here at Nordquist Family Chiropractic, we follow NFL alumni guidelines and work with the University of South Florida to establish patient protocols. One significant advantage of regenerative medicine is protecting your body from future injuries.
Learn More About Regenerative Medicine

---
Why Choose Us?
Nordquist Family Chiropractic and Regenerative Medicine is the only chiropractic clinic in Washington State to be associated with the NFL Alumni. We follow protocols established by the University of South Florida, and have them to help us with determining and analyzing treatment protocols.
---
"By the time I learned about Regenerative Medicine, my "L" knee pain had become unbearable, negatively affected every area of my life. 1 live in a townhouse, with my bedroom being on the second floor. Once I came downstairs in the morning, I didn't go back up the stairs until I went to bed. I had to take the stairs one at a time, always leading with my right leg. I had the Regenerative Injection on the last Saturday of July 2021, and by Monday, the acute pain was gone, and I was able to walk up the stairs normally. My knee is sore when I press on it and I notice it when I walk; however, it doesn't stop me from walking. I was told complete healing takes between four and six months, which is understandable, and I can accept this, but only because the intense pain 1 was experiencing was alleviated within days after receiving the injection. I can't say enough about the personnel at Nordquist Chiropractic and Regenerative Medicine and am thrilled with the results thus far from the Regenerative Injection I received."
Janglee Tracer